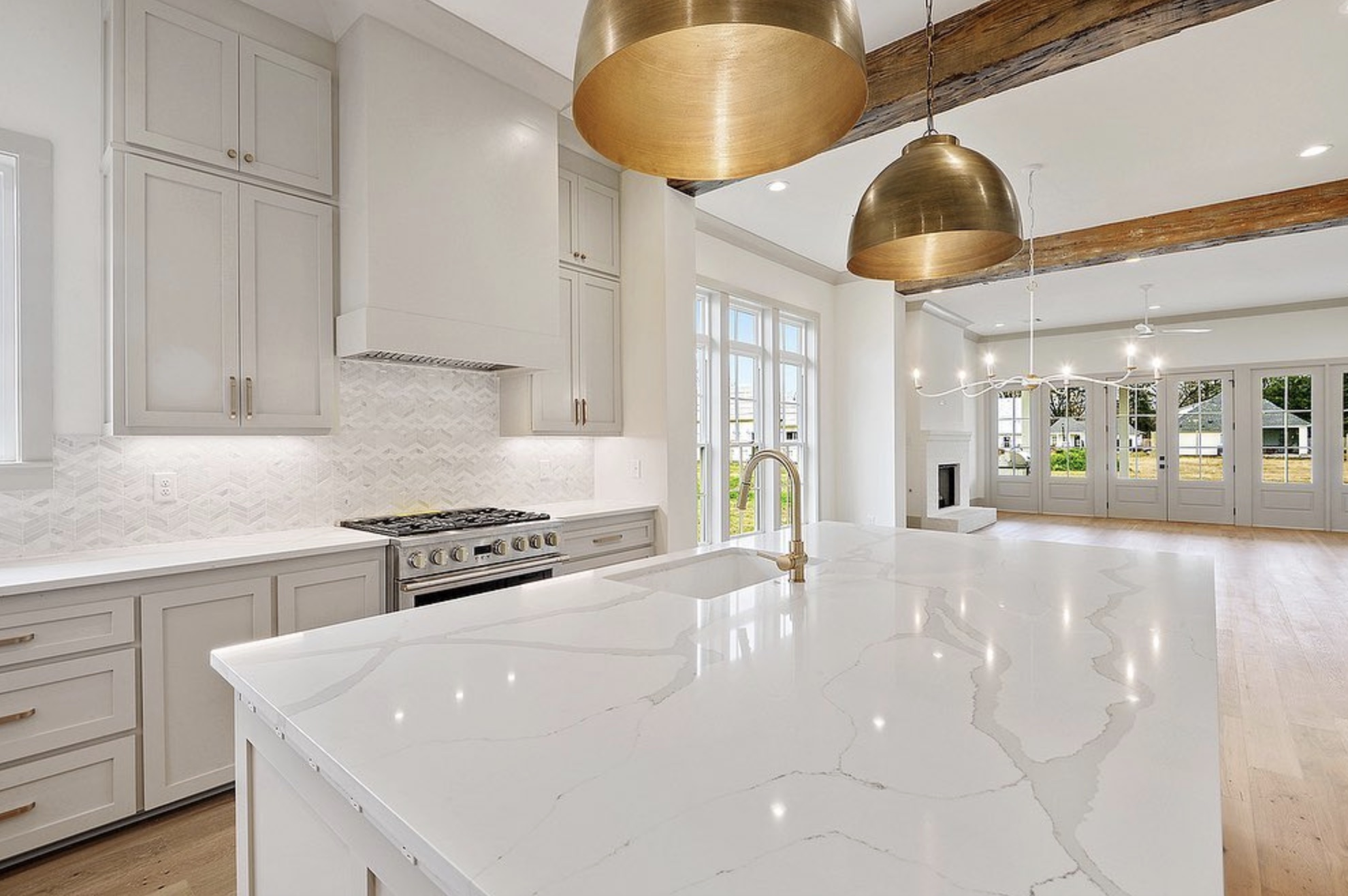 Countertop surfaces are divided into two groups: natural stone and manufactured materials. However, the chosen material should match the kitchen style. It's also important to select a material with qualities and characteristics that match the kitchen's traffic. And even most importantly, the level of maintenance the homeowners will dedicate to the counter, mainly because choosing the wrong material means risking damage to your countertop.
If choosing a material for kitchen countertops feels overwhelming, here's everything you need to know about natural, engineered and innovative materials.
Natural Stone Surfaces 
Natural stone countertops are a single piece of stone that has been sized for the kitchen. These raw materials can last up to 50 years with proper care. If the edges get chipped or cracked or if the surface gets scratched, experienced technicians can repair them.
Granite 
Popular Applications: Granite is popular for natural stone kitchen countertops and bathroom vanities.
This igneous rock is known for being solid and durable, resisting scratches, high temperatures, and lasting anywhere from 100 years or more. This is why it's commonly used in outside kitchens. Granite has different colors that depend on its source location. It usually features white flecks of quartz mingled in depth, giving a bright touch to the countertop. 
Pros: Stunning appearance with natural patterns, heat-resistant, solid and durable for years to come. 
Cons: Requires regular maintenance, needs annual sealing to prevent staining and bacterial growth, may develop patina over time.
Marble 
Popular Applications: Mostly used in high-end kitchens and for bathroom accents.
Marble is known for its white and light gray elegant veining. This material matches high-end kitchens and bathroom accents, giving them natural beauty while remaining sophisticated and uniform. The most common type is the Carrera marble, for its use in sculptures, but it has various white, gray and even green tonalities. 
Pros: Elegant veining that goes well with luxurious, sophisticated, timeless spaces. 
Cons: Requires high maintenance, easily stained and scratched, needs annual sealing, and can also form a patina over time.
Soapstone 
Popular Applications: Great alternative for more expensive countertops, often used by the sink or around wood stoves.
Soapstone is a metamorphic rock primarily composed of talc. This material has a rustic yet elegant and urban appearance with shades ranging from medium gray to black. Since it's nonporous, it's less probable to stain when any liquids sip on the counter, which makes it low maintenance. 
Pros: Beautiful appearance, rustic and elegant, low maintenance doesn't stain easily. 
Cons: Develops patina over time, requires regular maintenance and occasional sanding to mitigate scratches and maintain aesthetic.
Engineered Surfaces 
Engineered stone counters are formed by holding together quartz crystals and a resin binder. This material has a similar appearance to natural stone but has the benefits that natural materials don't. The treatment of this material also allows the creation of a broader range of colors, including a large spectrum of earth tones, roses, grays and more.
Unlike natural stones, engineered stone kitchen countertops are low maintenance thanks to their nonporous quality.
Quartz 
Popular Applications: Most likely to be seen in contemporary kitchens and bathrooms.
Since engineered quartz is fabricated, it offers various color options to suit different design preferences. You can find it in the market by names like Caesarstone, Pompeii, Silestone and Cambria. It's a popular choice for high-traffic kitchen counters because of its durability, low maintenance and stone appearance. It can also be used in bathroom counters.
Pros: Durable, low maintenance, chip-, scratch-, and stain-resistant. 
Cons: Vulnerable to heat and UV light. Placing near natural light or hot pans on it can cause the material to turn yellow.
Solid Surface 
Popular Applications: Modern kitchens, contemporary bathrooms, and healthcare settings.
A solid surface is a synthetic countertop material that contains minerals and resins. It has a smooth, silky texture and seamless appearance. Solid surface countertops maintain the characteristic non-porosity of engineered materials, which keeps bacteria away, maintaining a sanitary and cleaner countertop.
Pros: No-porosity characteristics keep bacteria away, are easy to repair, and provide a seamless appearance. 
Cons: Cannot stand high heat, tends to deform at more than 212 F, and scratches easily. 
Innovative Choices 
For more design, aesthetics and functionality choices, other countertop materials are not and don't look like stones. They also have a variety of textures and different types of maintenance.
Large Format Porcelain Slabs 
Popular Applications: Kitchen countertops, wall cladding, and outdoor kitchens. 
Large porcelain slabs stand out for their size difference from traditional porcelain small tiles. These slabs are manufactured to recreate the look of the natural material but in a larger format and without any maintenance issues or use restrictions. 
Large porcelain slabs are non-porous, etch-, stain-, and heat-resistant and are usually used in fast installs over existing surfaces because of their thinness. Porcelain slabs are less expensive than stone but still provide a similar appearance. 
Pros: Non-porous, etc.- stain- and heat-resistant, low maintenance, and cheaper than natural stone. 
Cons: Requires professional installation to prevent long-term cracks, more susceptible to damage from impact.
Live Edge Slabs 
Popular Applications: Rustic kitchens, eclectic designs.
Wooden countertops are made with dead-standing trees and root systems, which are eco-friendly materials. Their rich color tones and complex wood grain patterns give the house an extraordinary warm and natural beauty.
It is commonly used in log cabins and rustic or farmhouse kitchens to represent a connection with nature. Wooden countertops are easy to maintain because they can be sanded and refinished whenever necessary. Still, wood is a high-maintenance material.
Pros: Eco-friendly, provides a warm and natural beauty, can be sanded and refinished to extend lifespan. 
Cons: High maintenance needs to be sealed, sensitivity to humidity can lead to variations in dimensions, and requires special cleaning care.
Concrete 
Popular Applications: Contemporary kitchens, modern industrial spaces.
Concrete is a countertop material for homeowners looking for organic, modern and industrial aesthetics. This material matches natural woods, stainless steel appliances, and flush cabinetry with its neutral soft gray color. However, concrete can be stained to achieve different color variations and patterns. The possibilities for creating unique shapes and sizes for your kitchen are virtually limitless. That's why professional design and installation is recommended.
Pros: Organic and modern aesthetics, endless possibilities for shapes and sizes, extremely durable and easy to care for, and more affordable than other countertop options. 
Cons: Highly porous, which requires sealing to prevent bacteria growth, while sturdy concrete is also prone to chipping and cracking.
Wrapping Up 
The final call of countertop material will depend on your construction or remodeling project, the design and aesthetics you wish to achieve, and the use and traffic the kitchen will have. The more you learn about the material, the more you know about its installation and yearly maintenance.
Although natural stone countertops have a luxurious and organic look, they tend to have high maintenance because of their porous characteristics. Engineered surfaces may require specific care, such as keeping hot surfaces away from them, but are low maintenance and keep that stone look that will give your kitchen style.
And if you're feeling innovative and creative, concrete, wooden and porcelain slabs can provide your house with a unique touch.
Join Us at the Next Home Show to Keep Exploring the Vast World of Countertop Surfaces 
Designing your kitchen countertops is a journey that combines practicality, creativity, and personal style. As you embark on this exciting venture, remember that the perfect countertop material will fit your kitchen use and reflect your house style. 
To gather more ideas, see the latest trends, and connect with professionals who can help bring your vision to life, don't miss the next Home Show in Miami, Fort Lauderdale, or Palm Beach! These events are a fantastic opportunity to explore the world of home improvement and decor, and we're confident it will provide you with plenty of inspiration for your kitchen countertop project. 
We look forward to seeing you there and helping you design and implement the countertop you'll love for years. Take advantage of this opportunity to renew your kitchen with us!