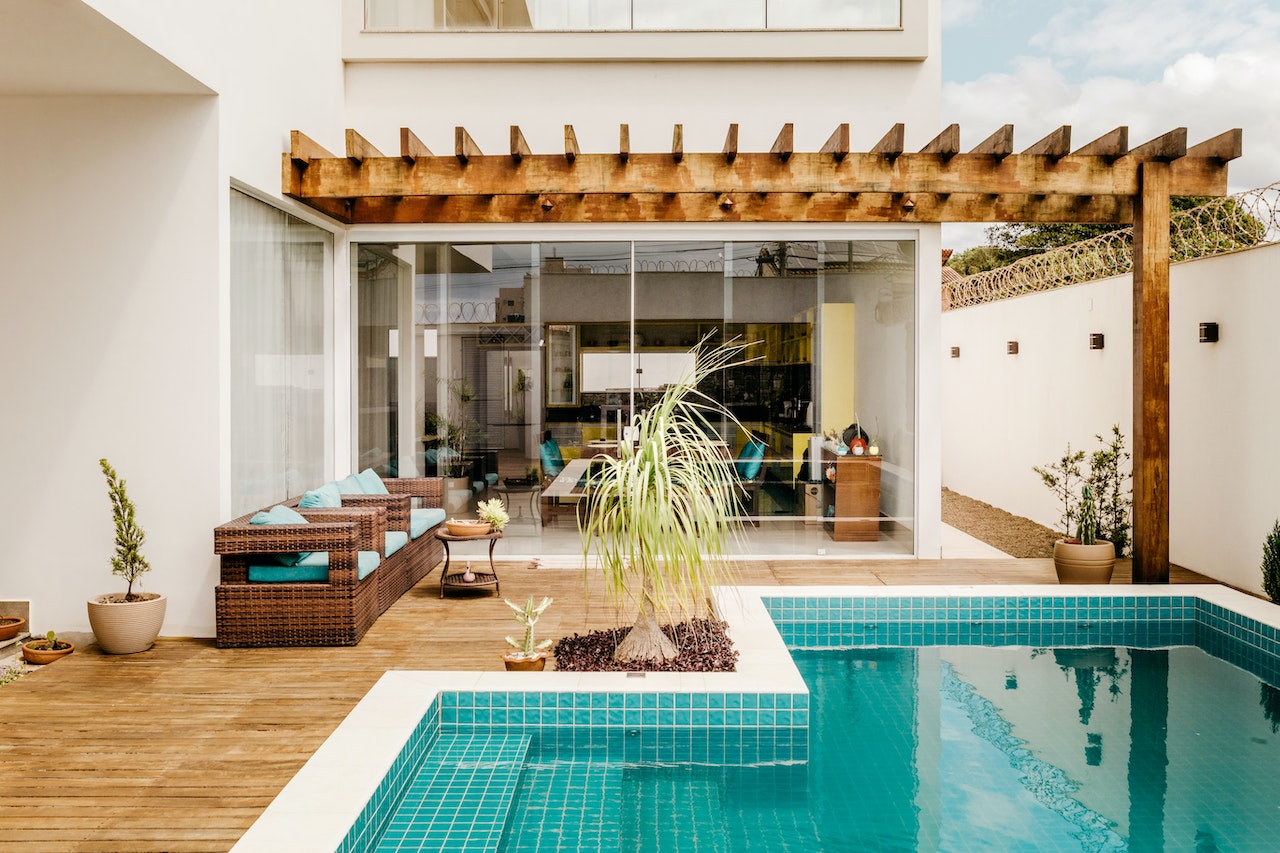 In Florida, at least 15% of homes have a pool. However, having your at-home paradise comes with a hefty price tag. According to HomeGuide, inground pools in Florida cost between $28,000 and $200,000. The average cost is between $35,000 and $60,000 depending on the type of pool.
However, the final cost varies a lot. Simpler, average-sized pools with minimal or no add-ons like waterfalls or hot tubs will be on the lower end, but if you plan for a bigger, fancier pool, the price will climb fast.
Factors to Consider
Materials
Inground pools are made of various materials. Your choice of material will determine the initial cost, its longevity, and the regular maintenance costs that will keep it functional year-round. 
These are the three most popular materials and the costs associated with their installation and maintenance.
| | | | |
| --- | --- | --- | --- |
| Material | Installation cost | Approximate yearly maintenance costs | How long does it last? |
| Fiberglass | $18,000 – $65,000 | $375 | 25+ years |
| Concrete | $29,000 – $60,000 | $2,750 | 50+ years |
| Vinyl liner | $25,000 – $45,000  | $1,325 | Replace the liner every 10 years |
Each material has its pros and cons:
Concrete is suitable for owners who want a custom shape pool with budgets of $50,000 and above and who'd be willing to keep up with the significant lifetime maintenance costs.
Vinyl liner is good for budgets between $35,000 and $65,000, especially for owners who will not be living in the same home by the time the first liner change is up or those who want the largest pool for the least amount.
Fiberglass is an excellent choice for owners with budgets of $35,000 and above who want a relatively quick installation with minimal yearly maintenance costs.
Size
The bigger the pool, the more time and material it will take to build, and the more it will cost.
On average, a 10×20 ft will cost $18,200 for a vinyl liner pool, $23,400 for a fiberglass pool, and $26,000 for a concrete pool. 
For a 30×50 ft pool, the prices rise to $136k, $175k, and $195k for vinyl liner, fiberglass, and concrete.
However, an 18×36 ft pool with a depth of less than 6f will provide enough room for a family of 6-8 people. A pool of this size would cost $58,968 for vinyl liner, $75,816 for fiberglass, and $84,240 for concrete.
Maintenance
The 10-year total maintenance cost for a pool would be $3,760 for fiberglass, $11,500 for vinyl liner, and $27,400 for concrete.
Concrete is the most expensive material to maintain, but it's also the most durable and provides endless possibilities in the shapes you can design. This may be essential to some owners but unimportant to others. 
When it comes to maintenance, keep in mind that:
Fiberglass costs the least to maintain, requiring only pool chemicals and electricity usage while adding some home resale value (since most buyers prefer a low-maintenance pool).
Fiber liner stands squarely in the middle, requiring pool chemicals and electricity to maintain, but the liner also needs to be replaced every 5 to 10 years, costing about $4,500 each time.
Concrete has the most expensive and involved maintenance schedule, needing; a cleaning service every season, an acid wash to the shell every 3-5 years, and a replastering or retiling of the interior every 10-15 years, in addition to chemical and electricity use.
Other Costs to Consider
In addition to the basic costs, there are some additional potential costs you might have to cover before, during, and after your installation.
Insurance: There are insurance policies for swimming pools. It is generally covered by homeowners insurance, but the actual damages that will be covered depend on the nature of the pool.
Permits: You must adhere to local rules and regulations when building a pool. Depending on the local rules, you may need to pay for licenses while coordinating with your homeowner's association (if applicable). You will also need to pay for inspections after the pool is finished.
Retaining walls: If your yard has a slope, there's a good chance you'll need retaining walls (relatively high walls that retain the soil). This will add significant costs to the project.
Extra concrete: If you are going for a concrete pool, builders will need to pour cement around the actual pool to support the structure, which may lead to unexpected costs.
Fences: Unless your patio is already fenced, you'd almost certainly need fences around your pool. This is particularly important for households with children. 
The Bottom Line
Before starting your pool project, there are many considerations, such as the cost, the amount of time it will take, and the maintenance schedule for your pool when it's done.
Hopefully, this article provided the initial information you need to start understanding what's to come for you and your family. However, only by hiring a contractor will you get the finer details you need to know about your property and the exact cost of the project.