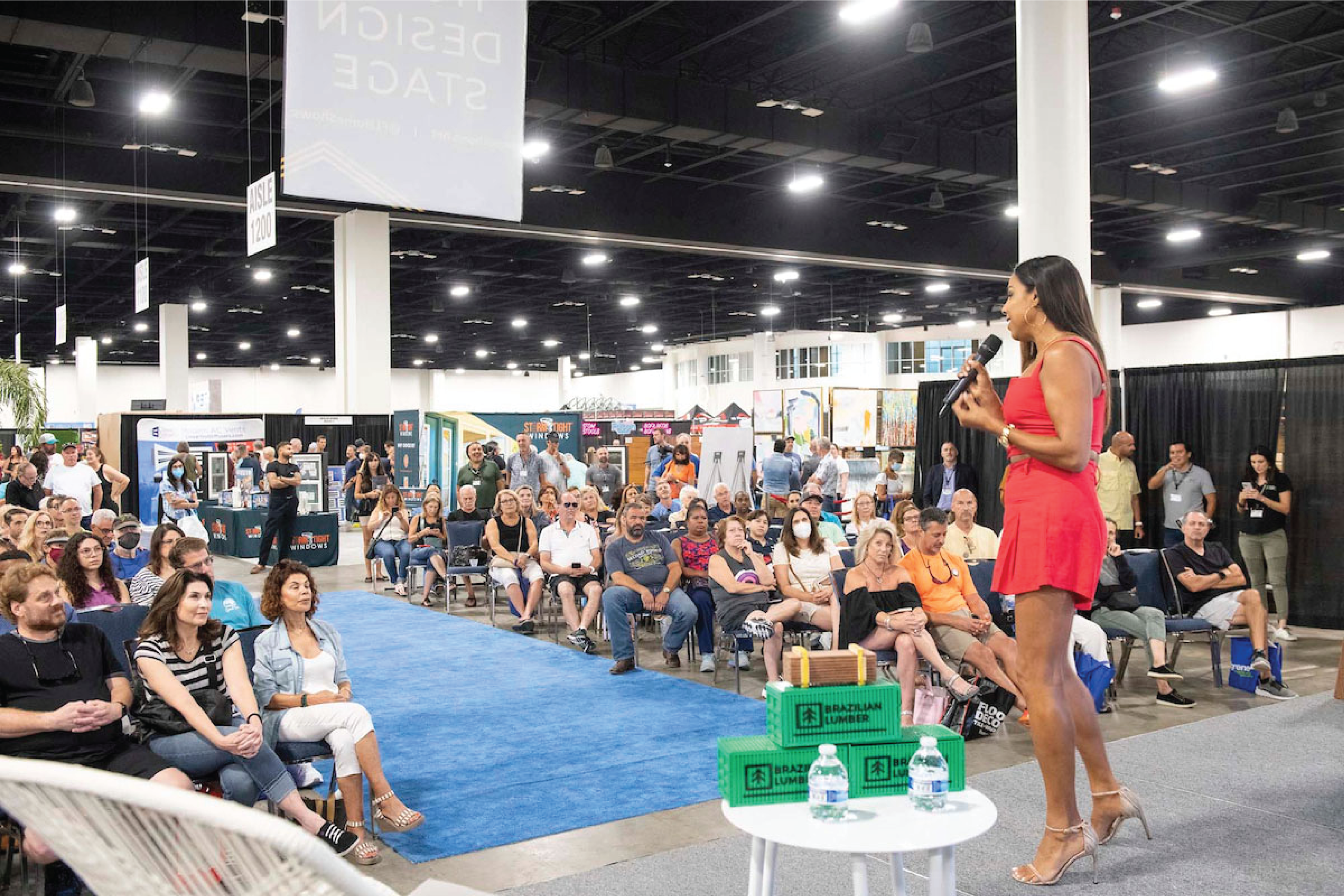 The Home Design and Remodeling Show is South Florida's largest home improvement and design show. We offer multiple home shows a year at our three South Florida locations: Miami-Dade County Fair & Expo Center (Miami), the Greater Fort Lauderdale Broward County Convention Center (Fort Lauderdale), and the Palm Beach County Convention Center (Palm Beach). For more than 40 years, the Home Design and Remodeling Show has been South Florida's premier home show, bringing together industry leaders to offer our attendees the best and latest trends in home design and improvement. We believe "home" means many things, but it's where lasting memories are made. Even though home improvement can be intimidating at first, our goal is to provide a reliable resource for this diverse world and give you a chance to improve the place where you sleep, play, and spend valuable time with your family. If you're looking to remodel your South Florida home, get inspired, and learn practical tips from experts, South Florida's Largest Home Show is for you! This event brings together all the products, services, and resources needed to complete your next project. Here are some top reasons to consider getting tickets for the next events.
1. You'll Discover New Trends & Find Inspiration Right Here in South Florida
The South Florida Home Show is the place to go if you want to discover what's new in home design and decorating trends. You'll find inspiration for your next renovation project, learn about the latest products in the market, and meet with local vendors who can help you make your dream home a reality. In addition to discovering new trends and finding inspiration, another benefit of attending our iconic South Florida events is learning about the newest home technology products. From smart speakers, to full home automation, there are many ways for homeowners to enhance their homes' functionality with today's technology. Our South Florida home remodeling and design show also allows you to:
Compare designs from different brands. Going from booth to booth, you can experience a variety of options quickly.
Have low-pressure conversations with contractors. Contractors also attend our show, and it'll be an excellent opportunity to discuss their offers without the pressure of using their valuable time on a phone call. They are there specifically to talk and meet you.
Stay informed on industry trends. Technology and home design elements advance quickly, and staying out of the loop is easy. Our show offers a central meeting place to know all there is to know about the products and services available here in South Florida's home improvement market.
Learn from experts. Every year, hundreds of expert exhibitors and industry leaders exhibit or attend the show to engage in interactive panels and lectures. Guests attending can use this opportunity to learn from our industry partners, design experts, and celebrity guests.
2. You Can Meet Face-to-Face With Experts & Shop Quotes From South Florida's Top Brands
If you're interested in attending the South Florida Home Show, it can be helpful to know that one of the biggest benefits of this event is getting face-to-face with experts who can answer your questions. You may want to ask about solutions for your home improvement needs or get advice on what to do next: an expert can help you determine what options are best for your specific situation. Our local, South Florida exhibitors are there to show off their best designs and services. Home Show attendees are there because they're looking for those designs and services. You get a recipe for success when you bring together qualified potential customers and providers ready to do business. We have over 300 exhibitors offering more than 10,000 products and services at exclusive prices. You'll notice that our vendors come to the show:
Well-stocked and prepared to inspire you with their best and latest services.
Prepared to schedule in future projects or make appointments based on their interaction with you.
With unique, personalized, and potentially one-time-only quotes straight from their booth display.
Attendees can use this opportunity to secure exclusive deals and savings from some of our most popular exhibitors. Whether you're on the market for new impact windows and door frames or getting ready to start your kitchen remodel project, this is the place for you.
3. You Can Learn from South Florida's Leading Home Design and Remodeling Experts
Our home show attracts the best home improvement, remodeling, and design brands from South Florida and beyond. Whether you are looking for solar power installations, interior design solutions, home remodelings, outdoor living ideas, bedroom renovations, decking, furnishings and home decor, or any other home improvement project, our vendors have covered you. Unlike a traditional sales call, exhibitors here are experts on their products. Ask as many questions as you want, and request a 1:1 consultation with the vendors. This is a unique opportunity to learn about a product or service to ensure it's the right fit for your project.
4. You Get to Meet Celebrity Guests
Home Shows wouldn't be the same if they weren't filled with celebrity speakers bringing home improvement ideas to the forefront of South Florida's culture. Some of our past speakers include:
Josh Flagg. Real estate agent and TV personality from Bravo's Million Dollar Listing Los Angeles.
James Harris. Real estate agent and TV personality from Bravo's Million Dollar Listing Los Angeles.
Craig Conover. Co-founder of Sewing Down South and star of Bravo's Southern Charm show.
Galey Alix. DIY influencer specializing in weekend design flips.
Alena Capra. Designer, spokesperson, and TV host for SoFlo Home Project on WPLG Local 10.
Taniya Nayak and Matt Blashaw, hosts for various HGTV shows.
Maya Vander. Realtor expert and participant in Netflix's Selling Sunset.
Our celebrity guests are not only present. They also use this space for interactions with the guests and other panelists. You'll meet them, ask questions, and learn more about their stories.
5. You Can Participate In Industry Day
The South Florida Home Design and Remodeling Show is not just for homeowners and design enthusiasts. If you are an interior designer, architect, builder, or industry professional, this show is also an opportunity to keep up with your education. During the show, we host "trade days." are opportunities to complete fully accredited IDCEC seminars throughout the show for the interior design and architecture community. It opens the opportunity to network with and source from hundreds of exhibitors and discover thousands of products and services for future home projects.
What Can You Expect at Each South Florida Home Show?
The Home Design and Remodeling Show is something you've never experienced. As Florida's largest show, we're the premier destination for valuable insights, quality products and services, and rich perspectives from some of today's most prominent brands and designers. If this is your first time attending South Florida's Home Design and Remodeling Show, here are some things to expect:
Hundreds of exhibitions with the best from South Florida's home improvement, design and remodeling market.
Dozens of fully-equipped models for outdoor grills, pergolas, porches, kitchens, bathrooms, living rooms, bedrooms, ceramics, and more.
Salespeople eager to provide their best designs and services with one-on-one demonstrations.
Discussion panels by industry experts, celebrity guests, and more.
Speaking and demonstrating events with the most popular personalities in South Florida's home improvement market.
Every Home Show attracts thousands of people and hundreds of vendors looking to connect. Get ready to experience a wealth of ideas for every room. You'll find practical ideas to use immediately, plus the latest designs and hottest new products. The show features over 300 exhibitors featuring everything from:
Kitchen cabinets
Custom millwork
Bathroom design
Plumbing fixtures
Flooring
Countertops
Surfaces
Interior design
Wallcovering services
Impact windows
Hurricane protection
Doors
Pool design
Landscape design
Outdoor entertainment specialists
Outdoor kitchens
Pergolas
Artificial Turf
Home automation solutions
Lighting
Furniture
Home Decor
Fine art
Solar panels and energy
Air conditioning / HVAC services
Whether you're looking for the perfect gift, strive to learn something new, or just enjoy being around beautiful things, attending South Florida's Largest Home Show is the place to be. With three shows every year, there are plenty of opportunities to attend. Whether you visit us in Palm Beach, Broward, or Miami, the South Florida Home Design & Remodeling Show is a must-attend for anyone in the industry.