Crafting state of the art, smartly designed aluminum kitchens with style.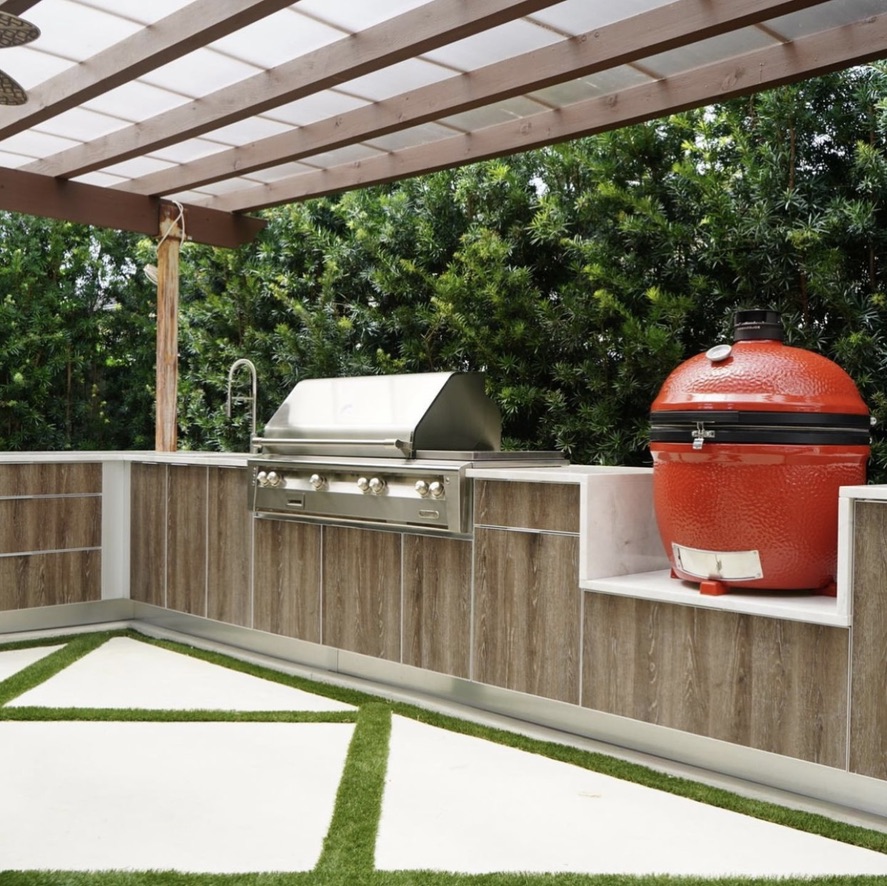 When working with clients I first like to become familiar with their space and the functionality and design that they are looking to achieve. Listening is the key to creating our clients dream outdoor space. I have been manufacturing kitchens for many years and have seen the capabilities and design styles that I am able to implement into each and every custom project. no two kitchens are the same as every home has a different dynamic or feature. I like to complement their outdoor space and design a space that is not only an extension to their home but also a place where they envision spending time with family and friends to entertain and enjoy. We understand that people not only want a quality kitchen, but also one that is smartly designed with the luxurious look.
Trends within the indoor and outdoor kitchen industry is constantly evolving. We stay ahead of the curve by implementing different materials into our design, whether that is the countertop or door fronts of our aluminum cabinetry. We find ourselves to be more of trend setters and ones leading the way in innovation as we are working with a material and a system of construction that is unparalleled to any other product we have seen in the market today. We are excited to announce that we recently became KCMA certified (Kitchen Cabinet Manufacturers Association), which puts us in an elite category where our products have gone through the most rigorous of tests to prove our strength, integrity, and quality. Our product has gone through and successfully passed five structural tests, two doors tests, two drawer tests and five finish tests to automate approximately 20 years of use. The KCMA certification is the ultimate approval within the kitchen industry. To us, this is what trendsetting looks like and we can confidently show our clients that they are receiving the highest quality product and the greatest value that they can find. EuroTech kitchens are light weight, resistant to corrosion, mold resistant, non-toxic among many other desirable qualities that are important for any kitchen to have. 
This pandemic has negatively impacted so many businesses but for us we have seen an incredible increase in demand. More people are staying home,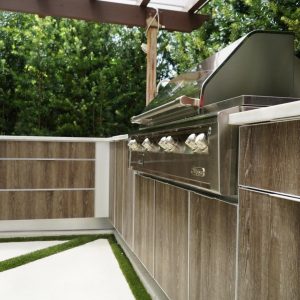 less people are traveling and now homeowners are more focused on turning their house into a home. We have found that homeowners want to enjoy their space and spend time with those who are closest to them. When looking for more usable space to expand a home the greatest are to look is outdoors. We live in South Florida with the most beautiful weather that anyone can experience. The kitchen is the heart of the home and we are able to create that in the environment where South Floridian's like to spend most of their time. We don't just build outdoor kitchens, we create a lifestyle. We recently made the decision to over double the size of our production facility due to the overwhelming response in people looking for a greater outdoor space to entertain and enjoy.
My favorite part of my job is to bring a dream to reality. Many of the people that I work with have never had a custom outdoor kitchen before. The dream of having a space where we can cook, entertain, and not have to worry about the product lasting is now a reality. I love to see the reaction from the homeowner or designer once the project is complete. Pictures are beautiful but the quality of our product is something that one must truly experience.
When clients are looking to create a custom kitchen I suggest to ask for referrals and whether their product is KCMA certified. Referrals are true testimonials from people who have had a real experience with the company that you are looking to hire. If a product has the KCMA certification then they know that they can sleep at night in confidence that they are receiving the most high quality product that can be installed in their home. KCMA certified means that a major national organization with the highest regard did the homework for them to make sure that the consumer receives the quality product that they are paying for. There are many great companies out there delivering a beautiful design but I always recommend to know the product being installed as an investment should last and look great years from now and not just after completion. 
To see more projects and learn more about Euro Tech Miami, visit www.eurotechmiami.com/
Get more home inspiration by reading South Florida's Home Design Magazine!