We are proud to share that the first annual Palm Beach Home Design and Remodeling Show was a huge success, bringing tens of thousands of attendees over the shows 3-day debut. After such an unexpected year were glad to experience our first show of the year safely with the public. 
For more than 40 years, the Home Design and Remodeling Show has been bringing together industry-leading professionals from the entire spectrum of home design and improvement companies in South Florida. With shows in Miami, Fort Lauderdale and now, Palm Beach, we pride ourselves on featuring the latest trends and products in the home improvement industry. 
Our next show is coming up fast! The Miami Home Design and Remodeling Show is happening this October 1-3 at the Miami-Dade County Fair & Expo Center. Our shows feature hundreds of businesses and thousands of products from interior design, flooring, home automation, security, kitchen remodeling, custom closet design, home decor, impact windows, solar, landscaping, patio furniture, hot tubs, pools and so much more. 
With the events of last year behind us, we are just scratching the surface of what the future hold for the Home Design and Remodeling Shows. 
Featured Interior Designers
One of the many things that makes the Home Show special and separates who we are and what we do from really any marketplace out there is our featured interior designers. They are a huge part of our show from social media to our interior designer vignettes that not only bring design to life, but bring the show to life!
At the show, you will see companies with wallpaper, furniture, paint, flooring and more; but, how do you know what to do with it? How do you make it come together in the more cohesive way? That's what the interior designers are there to do! They bring inspiration so you can take those first steps in designing the home of your dreams. 
The Home Show is a real life Pinterest board that you can see, feel and buy all in person. In real time, you are able to shop and find products you may not have been thinking about before.
At the Palm Beach Home Show, we featured social media design influencer Marina Bargouti of Marina B. Style, Janine Rivero and Karina Gonzalez of KJ Design Collective, and Martha Antonini of Martha Antonini Design. Their unique styles created a variety of inspiring designs that showed us all what our homes could become. 
We have just announced our 2021 Miami Show featured designers. We will be featuring Ann Ueno Interior Design, Studio Nova, Y&Y Home Design and Consulting and Max Space Design & Decor, we cannot wait to see their vignettes! Another great feature coming back to the show in October is the addition of featured guests. We will be having Alena Capra from Alena Capra Design as our 2021 Miami Show featured guest! Don't Miss Alena on our Home Improvement Stage on Saturday, October 2 and Sunday, October 3.
Professional Home Design Expertise
At the Home Shows, attendees are able to get inspired, shop directly, get quotes and meet the experts. We bring the professionals to you, ranging from all aspects of home design and remodeling, and they want to answer your questions!
If you're unsure of what you want to do in your home, the Home Show is the perfect place to get answers. At the Palm Beach Show, attendees looking for interior doors got to browse through Indigo Doors selection. If they were interested in lighting, Velum Design showcased their beautiful stretch ceilings and Centrsvet linear light system. If they needed furniture, they talked to the experts from City Furniture. Not only were these companies at the Palm Beach Show, but they will be at the Miami Show as well!
All of our exhibitors are at the show to educate you. You get to discover products an services all in one place. No matter what type of home or budget you have to work with, there is something for everyone.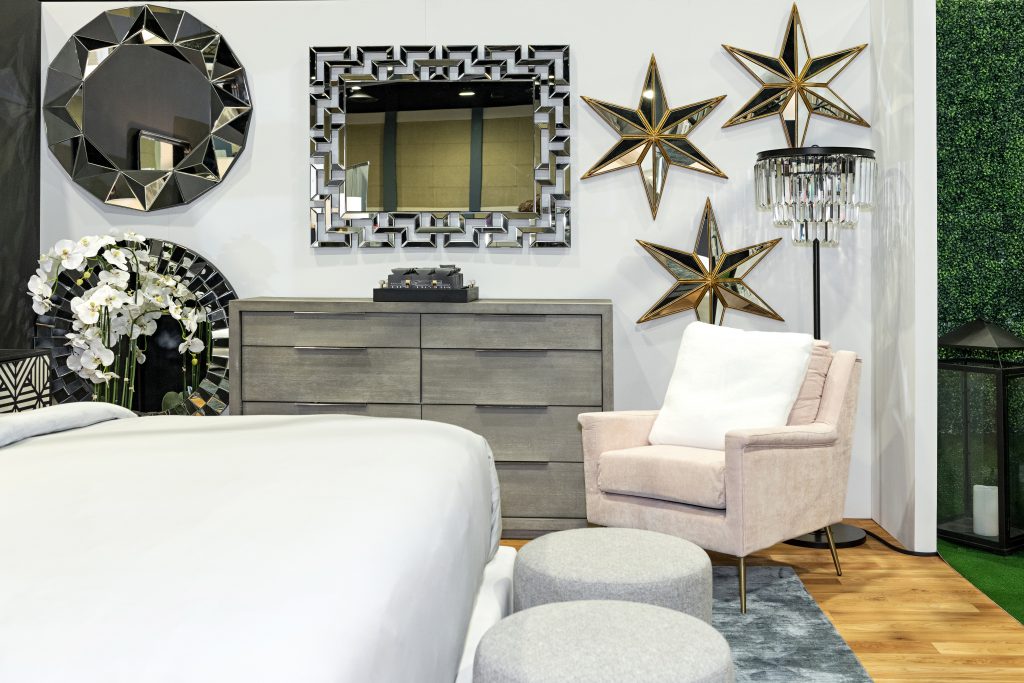 Discover What The Home Show Has to Offer
The Home Show has a uniqueness that some don't realize. A lot of the companies who are featured at the Home Show do not have showrooms open to the public, they are in attendance to showcase their products and spotlight what they do. You can't get this opportunity anywhere else. 
Did you know there was a company that builds exterior accents like columns, louvers and pergolas on your existing home all out of PVC? Hardie Boys Inc., featured at the Palm Beach Show and will be featured in the Miami Show, does just that. They take pride in creating "jewelry for the home." 
Belamo Design is your one stop shop for gorgeous and comfortable outdoor furniture. They even create artificial grass animals and floating pool chairs! Belamo will also be featured at the Miami Show this year. 
Even Sherwin Williams, a company known and loved by many establishes a presence in our show. Come discover why these companies keep coming back to showcase their products with us! 
At the Home Show, you may discover something new you didn't even know existed. Whether you visit the Miami, Fort Lauderdale, or Palm Beach (or ALL of them) Home Design and Remodeling Show, you will find something for your home. Discover. Be inspired. Direct. 
If you missed the Palm Beach show, SAVE THE DATE for the Miami Home Design and Remodeling Show happening October 1-3 at the Miami-Dade County Fair & Expo Center. See what the professionals like Arkimodel, Cuzine Miami, Cutler Bay Solar, Alco Windows, Eurotech Miami Modern Design, Efekt Design, Urbano Shades and more have to offer! See you there!